Kicking off a new post series for Fridays is a very recent love of mine, woven rag rugs! I especially like the ones that look like they were made from leftover scraps of fabric, like this one which I found for $12 at a flea market and spread in Shire's room.
This vibrant display of color on her floor makes me smile every time I see it. Perhaps what I love most about woven rag rugs is that no two are the same. Even two rugs with a consistent color pattern are slightly different when placed side by side, making each of them unique.
An excellent source that I've found for woven rag rugs, like the one above, is
The Rug Hag
, on Etsy. The prices are a bit heavier than the lucky flea market find in Shire's room, but each one is hand made, completely unique, and a steal compared to other rugs of similar dimensions.
And if you happen to be wearing your runnin' shoes you will probably be able to catch the gorgeous woven rag rugs on clearance at your local Target. I was just there the other day and found some beauties for $7-$13, in various sizes and colors. Who knows, you may get lucky! I found a good one for our kitchen which I'll show ya next week!
My personal favorite from The Rug Hag:
'Summertime'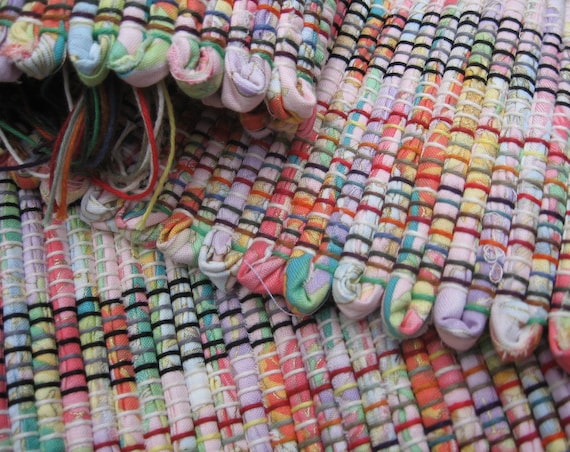 Next week will be another transformation week, (similar to last weeks Dining room makeover). Coming up: the Kitchen! I'll be talking about the highs and lows of bringing our kitchen back to life with chalk paint as well as some personal touches that make the space unique and functional for us.
Thank you so much for reading and have a wonderful weekend!
~Chelsea